Oh My Giddy Aunt!
Edit
This article is a stub. You can help Dalek Mod Wiki by  expanding it 

and it will continue to grow until we get Jelly Babies in the Dalek Mod.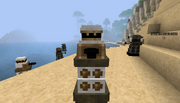 In the Show
Edit
They only appeared in Remembrance of the Daleks, where it was deployed to destroy a party of Renegade Daleks
In the Game
Edit
The Special Weapons Dalek is an imperial dalek equipped with a specialized laser which, on contact, will detonate and destroy blocks in a large area. They can kill the player in one hit, more because the explosion.
It takes 12 hits with a diamond sword to kill the Dalek. However, when using Ace's Baseball Bat (See Companions), it only takes 8 hits. It's original show design was that of the Dalek Storm. They will attack Renegade Daleks and you.